The tag was part of a challenge in my graphics group. All we got was the cardboard frame. I don't know what took me to the elepants, but here they are. Hope it is someone's taste. LOL.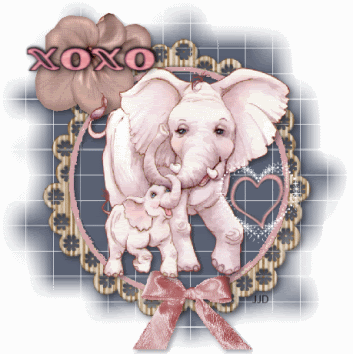 OK for you reader's of mystery novels, this was very cool. I watched the premier of 'Castle' on ABC last night. The story is about a writer who is asked to help look into crimes that seem to be mimicking his novels. It's kind of a who-done-it with a comedic twist. Anyway, there is a scene with this writer playing poker with some other writers and who is sitting across the table from him but James Patterson. The real James Patterson playing himself. I don't know when I have enjoyed a scene on TV more. The show is a tad silly but I will probably continue to watch in the hopes of another cameo of Mr. Patterson (who is my favorite mystery writer for sure).
*Note to Ken (Bucko)...I finished Scarpetta today and I have to admit, it was pretty good. I guess I was just in a slump from having to interrupt the story for a couple of weeks.*
Since I'm talking about TV, I'm lovin' American Idol so far this year. There is some awesome talent and the twist of having a final 13 instead of 12 was great. So far my faves are the young red-headed gal and the guy with glasses who recently lost his wife. It will be fun watching them get whipped into shape and improve with each week.
I'm also a fan of 'Survivor' and since the new season started while I was living at my daughter's, my 7 yr. old grandson has jumped on board. I laughed out loud when he called me after the show on Thursday night to say he was upset that the bus driver lady (the oldest player) was voted off. She was his favorite but since she's now gone he is rooting for (his words) the pretty blond lady that flirts all the time. What have I started? LOL.
For lack of something to watch on TV on Saturday night, I pulled out my DVD of Robin Williams in 'Patch Adams'. If you haven't seen that movie, it's a must see. It's a true story and Williams does a great job in it. I don't know why I'm on the entertainment trail of thought, and I have certainly rambled enough so, until next time...
Hugs, Joyce
Hugs, Joyce